Want to make your holidays refreshing and worthwhile in Canada? Sherwood Park is the place to visit for you.
You may not have heard about it, but it's one of Canada's most attractive tourist destinations.
In this guide, we will tell you about some of the most desirable spots in Sherwood Park that you must visit when you get the chance. You can easily get an airport taxi for your tours right from the Edmonton airport.
So, if you are a traveller, want to see new amazing places, or want to have a good time with your family and friends, you would love these places.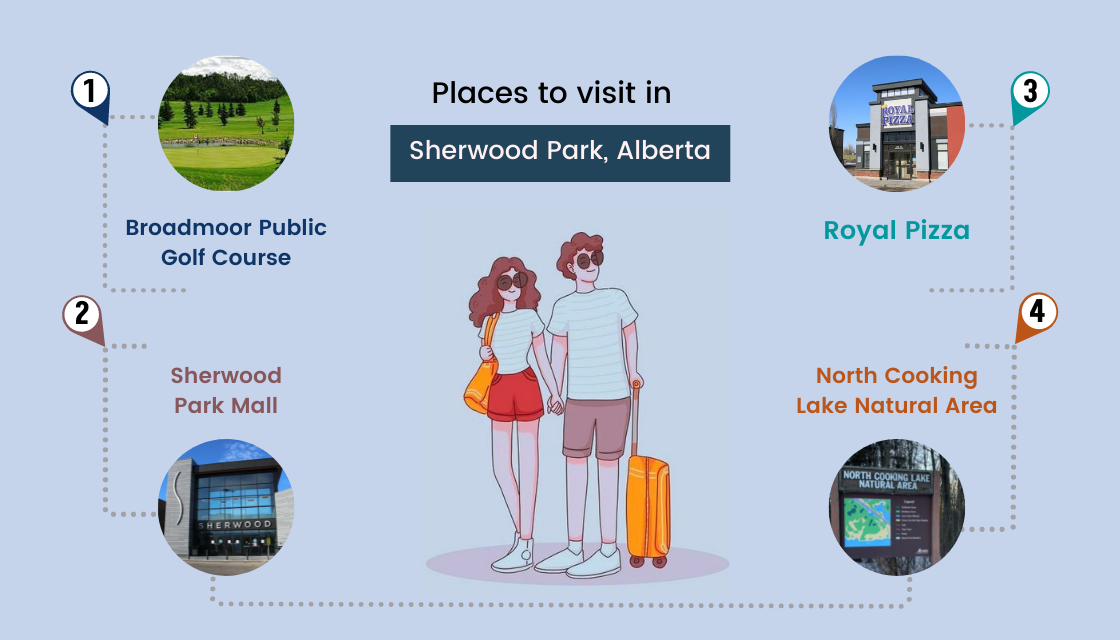 Sherwood Park Weather
The year-round weather of Sherwood Park isn't steady. You will find the summers long, a bit cloudy, and comfortable, while winters are cold, cloudy, windy, and snowy.
If you like the warm weather, the best time to visit Sherwood Park is between July and August. And, there is no limit to those who love the colds as well.
Let us take a look at our favourite spots that you can visit in Sherwood Park, Alberta.
North Cooking Lake Natural Area
This is your ideal holiday destination if you are a nature lover and would like to disconnect from civilization for a while so that your mind can rejuvenate. It's a great spot if you want to be alone in the wilderness for a time.
You can look at the animals living in their natural setting and refresh your body and soul. The best way to reach North Cooking Lake Natural Area is by renting a good airport taxi Sherwood Park.
Royal Pizza
Whether you are with family or with friends, when you are in Sherwood park, you have to try the Royal pizza out. A lot of toppings on thin crusts will definitely make you want to eat more.
You will not have any problems with the customer service, which is very active and prompt, and will not make you wait for your favourite pizza.
At Royal pizza, you won't find yourself limited by options. You can choose from a lot of options, and whether it be pepperoni or pineapple, half Texan or half chicken teriyaki, the place offers a lot for your taste buds.
The best way from Edmonton airport to Sherwood Park is by renting a taxi service that you trust.
Broadmoor Public Golf Course
Sherwood Park is an exciting place not only for pizza lovers or nature enthusiasts, but it is a perfect spot for those who like sports, especially golf.
The Broadmoor public golf course is a pretty well-maintained place that you can add as your next destination. Luckily, the site is not that expensive, so you won't have to break the bank to enjoy your game.
Importantly, the staff of this public golf course is very friendly, making sure your experience is pleasant and enjoyable.
In addition, the golf course's clubhouse is a great place to host parties as the food there is top-notch. So, get an affordable taxi service and practice your golfing while enjoying it.
Strathcona Science Provincial Park
Located between Edmonton and Sherwood Park, Strathcona Science Provincial Park is the best place for walking, hiking, biking, and more. The park has a serene natural atmosphere with birds chirping in the morning hours, making it a great place to visit for early morning walkers.
Moreover, if you are into skiing, the Strathcona Science Provincial Park provides you with a platform for downhill skiing and cross-country skiing.
The park is located just beside the calming Saskatchewan river, so it's a must-visit if you like rivers and wilderness.
There are many wildlife species in this park; you can watch them while relaxing under the comforting shade of a tree. You can easily get to the Strathcona Science Provincial Park by using our Airport taxi service.
Greenland Garden Centre
Greenland Garden Centre is one of those places that connect you to the serenity of nature. The greenery of plants of various types puts you in a very calming environment. You can visit and enjoy the place with your family, a significant other, or friends.
You can also purchase some house plants for yourself and get some amazing gifts for your loved ones. And, if you like wood-fired pizzas, you would love the place as it serves fresh-out-of-the-oven pizzas for the delight of your tastebuds.
Additionally, the staff at Greenland Garden Centre is very knowledgeable and helpful. So, if you need any ideas about your home garden, they will guide and help you out. It's an ideal place for plant lovers and people who want to design their gardens.
Sherwood Bowl
Bowling is not only fun, it allows you to freshen up your mind with your family and friends after a hectic week at work. Plus, it never hurts to do some enjoyable physical activity and get the blood flowing.
Sherwood Bowl offers you 16 lanes for pin bowling and several leagues for every skill level, making it an attraction for everyone, including families, friends, and bowling beginners.
Even if you are a novice in bowling, you can enjoy your time here; the staff is pretty helpful and will teach you everything you would want to know. After you leave the place, you won't probably feel like a novice.
Not only that, the place has billiards tables, a lounge, a hot food menu, and virtual reality games, which means you can do a lot more than just bowling here.
Sherwood Park Mall
The Sherwood Park Mall has a food court for the food-enthusiasts, a women's clothing store for the ladies, a camera shop, Ardens for girls, shoe stores, and more.
And, if you need anything hemmed/tailored, the Sherwood Park Mall is the place to go. This local business there gets the job done effectively and timely. So, you can trust the craftsmanship and get your clothes altered here.
Final Thoughts
Sherwood Park, Alberta, is a must-visit place if you haven't already visited it. If you are a visitor, you don't need to be told about the amazing spots this place has to offer.
From nature's serene habitat and outdoor activity spots to shopping malls and eateries, you will get a variety of flavours in Sherwood Park when you get to explore it.
Make sure you have a reputable and trustworthy taxi service with you when you are visiting these amazing places so that you have an expert guide throughout your tours.