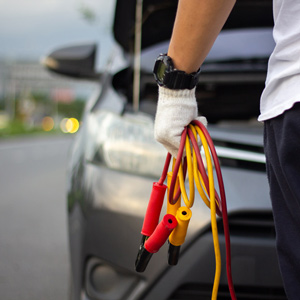 Do you have a dead car battery? Need a battery boost? Or worry that your car might not start when you have an important day ahead? At Taxi Sherwood Park we are much more than just a flat rate taxi service company. We offer so many other essential services to better your travel around Sherwood Park.
Taxi Sherwood Park is available 24/7 for a stress free, simple, flat rate battery boost service anywhere in Sherwood Park and its surrounding areas, to get you to your destination on time. For only $19 we will come out to meet you and have your dead battery fixed in no time at all. And all for a flat fee! Rest assured that there are no hidden costs or fees, no matter what situation you have gotten yourself into!
At Taxi Sherwood Park we operate the largest fleet of taxi cabs in Sherwood Park and the surrounding Edmonton area, meaning you can rely on us not only as a brand, but as trustworthy individuals to meet your every need. Operating such a large fleet of cars and vans ensures that we have the ability to be at your location for your flat rate battery boost within just 20 minutes or less, from the time you make the all important call to us. It really is a no brainer!
So why choose us over a car insurance company or garage service? For the majority of customers we are faster, cheaper and more convenient than your local tow truck company and we aim to get you back on the road faster. And you can guarantee that we are more economical at only $19 flat rate for our entire service from start to finish.
So how does it work you ask? Once one of our talented crew members have reached your location they will carry out a short test to ensure that the car troubles you are having are definitely down to battery problems. Once this has been confirmed, our crew member will perform a quick and efficient battery boost to get you back behind the wheel safely again. This should take no more than 10 minutes, so you will be back on the road in no time at all!
So no matter whether your car won't start on your driveway, or you've had car trouble at the side of the road, rest assured that calling us at Taxi Sherwood Park for our battery boost service will result in a quick and easy fix with the best professional service around. So call us when you need a battery boost in Sherwood Park on 780-464-1500.
*anywhere in Sherwood Park
Frequently Asked Questions
How long should a car battery last and how do you tell if it's dead?

The average battery life of a standard size car is around 3-5 years but there are many factors that may change this. The battery life may be shorter in extreme climates, or if the car is being used either on extremely long journeys in a short space of time, or if the car is not being used enough and has been stationary for quite some time. So bear this in mind when you are thinking about changing your battery. You can use a electronic battery tester to check the condition of your car battery and this should indicate whether you will need a replacement in the near future. If your battery is completely dead your car will not start.

What does a battery boost do exactly?

A battery boost, also known as a jump start is a way of temporarily starting your vehicle which most probably has a dead battery, using a second vehicle. Using an external power source, a connection is made to the battery of the second car, ensuring that your car can make it to a professional garage quickly and safely to have the problem of the battery fixed or replaced.

How much does replacing a car battery cost?

You will not find a better deal than our $19 flat rate battery boost. But of course this is just to get you to a garage or to your chosen destination after breaking down. Actual cost of a replacement battery varies from car to car and can depend on a number of things such as the battery type and the warranty you want to include on the new battery. The longer warranty or higher capacity of the battery will equal a more expensive one and vice versa. A brand new battery on average will cost you in the region of $80 - $150.

What does our jump start service provide?

When you call us to provide you with a battery boost we take all the necessary precautions and safety measures to ensure you get to your destination in the most comfortable way. We use quality jump leads which are manned by fully trained and qualified personnel, who will recharge your dead battery in just 10 minutes!

Whether you are home or on the road, calling our dispatch will get you a battery boost service vehicle coming your way in no time. Once our crew is on-site, within about 10 minutes your vehicle gets the safest & efficient boost to get you going. In majority of the cases we are faster than tow trucks and ALWAYS way more economical with our $19 flat rate. Call us when you need a boost in Sherwood Park.