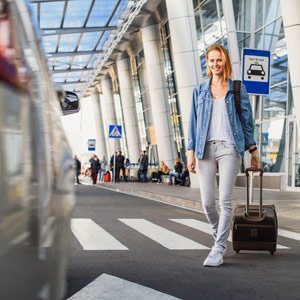 Getting to and from the airport after your holidays or business trips can frequently be quite problematic, particularly when a city lacks solid public transportation links. After those long journeys you will most likely feel tired and jet lagged, and the last thing you want to be stressing over is your ride home. Which is why it's important to always look for a service that's reliable, quick and fair.
It isn't uncommon for some taxi organisations to charge extortionate costs when finding holidaymakers at the airport in need of a cab home, so make a point to pre-book one of our flat rate airport taxis to avoid the hassle and stress of those nasty hidden charges by others.
It is understandable in some cases. If your flight is delayed or cancelled last minute, taxi drivers are losing out to other businesses, giving reason to some extra charges. But with Taxi Sherwood Park, you, the customer, is our priority no matter what the situation may be, and our flat rate price is our promise.
At Taxi Sherwood Park we wanted to create a new, one of a kind service that centers around the client experience and our reputation as a dependable brand. Taxi Sherwood Park operates a quick and reliable airport transfer service to and from Edmonton Airport for a flat rate, ensuring you don't get hit with any shock hidden costs.
Booking with the official Edmonton air terminal (YEG) taxi organisations can cost anyplace between $80 - $100 for a single excursion to or from the airport terminal to Sherwood Park, so it is extremely beneficial to look around before making your booking.
Remember, Edmonton airport can get incredibly busy, particularly in high season, so without pre-booking, you may need to sit tight in line for a costly taxi on the day.
Choosing to drive with us holds multiple benefits for you, the passenger. We are your personal chauffeur so you can expect to have a comfortable and stress-free ride. There are no hidden expenses. Our service is a purely flat rate business meaning no matter the time or traffic, you will only pay one price. Also you can free yourself from parking nightmares and car maintenance costs, become a tourist from the backseat, and use our service 24/7 at a time that suits you best.
So don't waste your time and money on gas fees, parking and all the added stress that comes with driving to and from an airport. Choose Taxi Sherwood Park to ensure you have the most comfortable journey possible.
*anywhere in Sherwood Park
Frequently Asked Questions
What should I do if my flight is delayed or cancelled?

If your flight is delayed or cancelled you should inform your driver or company at large, the minute you find out. This allows us to accommodate you at a later time when your plane arrives, or reschedule for another day. Given enough notice we will not charge you for this. Upon booking we will ask you for your flight number so that on the day we can keep track of any unforeseen delays to your flight.

What if I have a lot of luggage?

Don't worry! If you think you are travelling with an exceptional amount of luggage, let us know a few days before and we will try to arrange to have one of our larger cabs to pick you up or drop you home. We operate with several different types and sizes of taxis so there will always be something we can do to accommodate you!

What are the usual pick up times?

We guarantee to get you to the airport at least 2 hours before your flight is due to depart for security measures. On some occasions it may be even earlier than this so that we can tighten our own schedule to get as many happy customers to the airport on time as possible.

Can we make a stop or change the route on the day?

Our airport taxi service is specifically designed to take you to or drop you off from the airport, so the route goes directly between your chosen pick up point, and the airport. However if you urgently need to change your drop off point on the day or need to make an emergency stop off, you will need to speak directly to the driver who may be able to accommodate you. Please be aware though, they have the right to refuse this request or may charge you a fee if it affects the distance driven.

How can I find my driver at the airport?

Our drivers will meet you with a sign that will have your name on. This will be the name you provided on the booking form. The driver may meet you with this sign at the pickups point inside the airport terminal or alternatively may be waiting in the car pick up zone directly outside the terminal. Make sure you confront this with your driver beforehand to avoid any confusion. Meeting instructions will always be provided as a part of your booking. If you are still having issues finding your driver, look out for our signature blue and white cars. You can't miss us!