When should you take a cab instead of driving yourself? When you want to stay safe. A good cab company will make sure you reach your destination safe and sound.
There are many instances when you should not take the steering wheel.
You are going for an interview and dealing with the pre-interview thoughts, you don't want to risk driving in a compromised condition, and maybe it's freezing cold, and you can't get yourself to drive.
All these scenarios, including many more can be addressed simply by riding with a good cab company. The drivers there are professionals and are meant to serve you so that you won't be in amateur hands.
Let's look at the scenarios when you should take a cab to remain safe.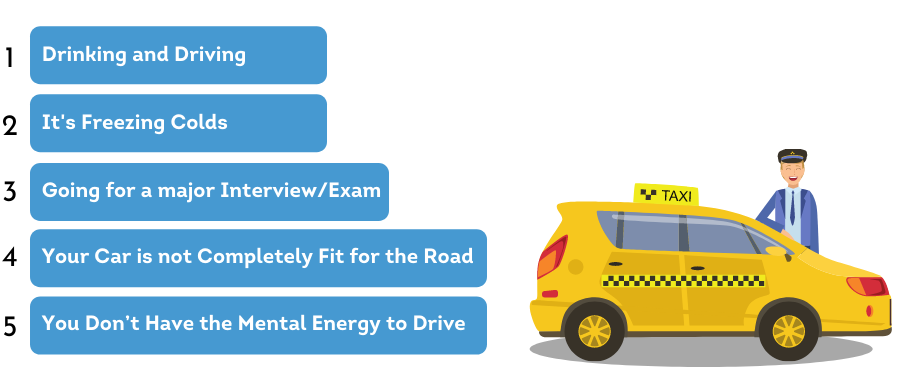 Scenario 1: Drinking and Driving
When you are under the influence of alcohol, you can't make good judgments, react swiftly to situations, or concentrate on driving fully. Safe driving needs a sound mind. When you are not sober, you put yourself at risk.
Plus, when you get caught under the influence of alcohol while driving, your vehicle can get impounded for several days. You will also be charged with a heavy amount. A simple breath test on the roadside would expose your condition to the on-duty officer.
In addition, your insurance plan may not cover you if you crash your car while drinking. You may have to compensate for the damage you inflict on others' properties as well.
So, in order to be safe and avoid getting in trouble, you need to take a cab and relax in the backseat.
Scenario 2: Covid-19 deliveries for elderly (we sanitize after each trip)
Covid-19 times are tough. The virus is not only fatal, especially for low-immunity individuals, but it is also mutating. So, being safe while we live in these uncertain times is the only option we have. Especially when we have elderly people who are said to be more vulnerable to this novel virus.
The most important question is, "how do you get the essentials during these unprecedented times?". Well, the answer is simple. You trust a cab delivery service that can safely deliver the essential stuff for the elderly.
We sanitize after each trip, so you won't have to worry about getting infected. Whether you need fresh meals, groceries, or medical supplies, we will make sure you get that as early and safely as possible. So, keep your elders safe at home and get your deliveries right at your doorstep.
Scenario 3: It's freezing colds
Very cold temperatures can make you lazy. There is less blood circulation, and you may not want to drive with those freezing hands.
Such a scenario is ideal for calling a cab; you don't want to freeze your steering wheel on the road and get into problems.
Plus, why do the extra work when you can make others do that for you? So, get us to drop you wherever you want and keep your mind at peace.
Scenario 4: When going for a major interview/exam, then take a cab to reduce the stress
You have been preparing for an exam for a long time, and your mind is anticipating it. It's natural to get stressed out because it's important for you.
Similarly, most of us can get anxious before an interview because of the fear of the unknown.
In such a scenario, you won't want to invest your energies into taking out your car and driving it all the way to the test/interview location.
This is where a cab service like us comes in handy for you. You can rely on us, relax on the backseat, or even revise what you have been learning on your way and prepare yourself mentally for the big day.
Scenario 5: Your Car is not Completely Fit for the Road
Cars often require maintenance and tuning. If you don't do that for a long time, your car may run into problems, which can lead to serious issues if you don't get it checked thoroughly by the mechanic.
So, in case your car is not delivering its best and causing problems, you should have it repaired and make it completely fit for the road. And, in the meanwhile, take a ride with us.
Scenario 6: You Don't Have the Mental Energy to Drive
You won't always want to drive the car on the busy roads. Your mind sometimes needs rest. Maybe you are not feeling very active in the morning for some reason, or you don't think you would have the mental energy to drive yourself back home; if so, you always have the option to order a cab and keep your mind at peace.
Scenario 7: You Need a Change
Always driving your car to work can become monotonous. You almost always have to focus on the road and can't enjoy the surroundings to the fullest. Plus, a slight change is always good for the mind.
You don't always have to take the steering, you can get a cab and let yourself free of the stress of driving in the rush hour. Thankfully, it's so easy these days to get a taxi service to take you anywhere at any time.
Final Thoughts
Staying safe and secure is important. Whether you are not sober, going for an interview, appearing for a much-anticipated test, need deliveries for elders in this Covid-19 times, feeling cold, don't feel like driving, or need to repair your car, calling a cab is always the practical option for you.
The list of scenarios can go on and on; the important thing is, you need to stay safe and get a taxi service that you can trust to drop you off at your destinations.