If you have a flight coming up or you're planning a trip, then you may need some reliable taxi services to drop you on and off at the airport. It is essential to make sure that the cab you are choosing retains high-quality services like timely pickup and drop, reasonable prices, comfortable seats and so on.
According to a poll report published by MORNING CONSULT, it is estimated that around 41% of the general public prefer using AIRPORT TRANSPORTATION SERVICE when they are going to the airport.
You can make a list of questions, ask them to yourself, and then filter out the ones you don't like. It will make it easy to find the perfect services for you. If you are facing any difficulty choosing the best, here is a list of some top-rated questions you can ask yourself about the airport taxi service to get the best idea about which is worth hiring and which isn't.
Let us have a look at those questions: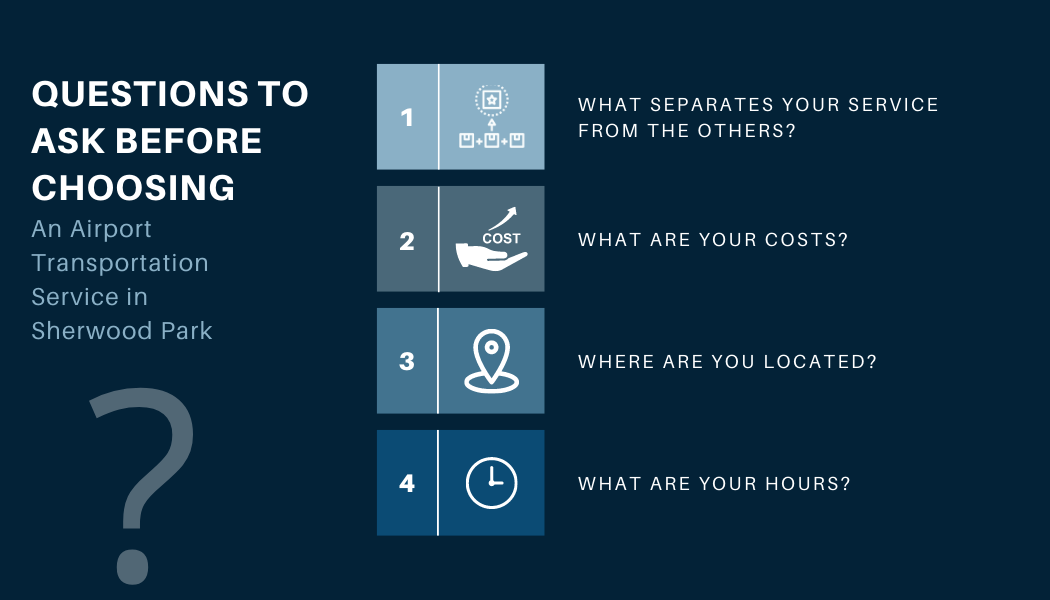 Questions to Ask Before Choosing an Airport Transportation Service:
1. What Separates Your Service From The Others?
If you see any airport taxi service, you may find it hard to believe that it's reliable and trustworthy. Ideally, some customers want to hear a company say the words like "best customer services," "excellent airport transportation," or "reasonable price."
However, anyone can say those words, and if they want to build customers' trust, they have to give real-world examples and feedback to prove them.
Ask them for real testimonials, how many clients they have accommodated successfully, what their experiences are, Have there been any cases of not getting a client on time, or what measures are taken to satisfy the clients?
You can notice the difference between the service company you're interested in and the other ones. You must focus upon what inspires the company to be different and what qualities make them outstanding.
2. What Are Your Costs?
This is the most concerning question, whichever one wants to ask straightforwardly. If you're not clear about the city rates and transportation costs, then it may be the case where you may get charged extra, which is a big problem.
It would be best if you always asked the cab serving companies about the cost of each service at the initial stage to avoid any future conflicts. Being straightforward about it isn't wrong. If you're clear about the cost, it will be better to travel without any stress.
If the service is upfront about its service charge, you can ensure that it is trustworthy. If they are honest about their prices and it's within your budget, then you should indeed consider it. In case you find it expensive, it is better to skip it. Always make sure to ask about the final cost of the trip and if there are any additional charges included or not.
3. Where Are You Located?
You're hiring airport transportation services because of their proximity, which might not be a good idea. If your pickup destination is far from the airport, for instance, like 40 miles away, the cab serving companies will have to travel this distance to pick you up and then drop you off at the airport, which is not effective and might be expensive for you.
You have to keep this in mind and find a taxi service to the airport that's located somewhere between your pickup area and the airport so that you don't have to pay a high amount for longer trips and high mileage. This way, you can also ensure timely arrival and departure towards the airport.
4. What Are Your Hours?
If you have an emergency meeting in another state or country, where you have to put together all the travelling plans at the last minute, and you'll be going to arrive at night, are you sure that your pick up taxi services will pick you up at 2 or 3 AM?
A good and high-quality airport taxi service, Taxi Sherwood park is only one call away and has the best customer service 24/7. Even if you're booking two weeks in advance or 2 hours in advance, each customer will be served equal services and will be provided with the best airport taxi services.
Travelling can be costly and contingent upon the rates and can influence how people perceive travelling. This is why numerous people opt for either public transportation or a personalized vehicle. Travelling has become an essential element of our daily routines. Without owning a personal vehicle, the only best choice to move around is to book a good and reliable taxi cab.
One must keep in mind all the tips mentioned above and questions before booking their cab for airport transportation service. These inside tips will help you gain an edge over your regular rides and prepare you to make an informed and correct decision.
If you are looking for a reliable taxi in your region, Airport Taxi Sherwood park cab service is the go-to choice for you. It is one of the leading and reliable cab companies offering the best cabs at amazingly incredible prices in and around Sherwood Park.
Roll your eyes over: taxisherwoodpark.com and have a look at the most genuine feedback and customer reviews for getting a better idea of who we are and how reliable our services are. Keep checking the website for more offers and be the first to access the latest discounts on taxi transportation services.
You can book your rides either through our website or via an online app. In case of any doubts, feel free to contact us at  (780) 464-1500, or drop us an email at: TaxiSherwoodPark@gmail.com.